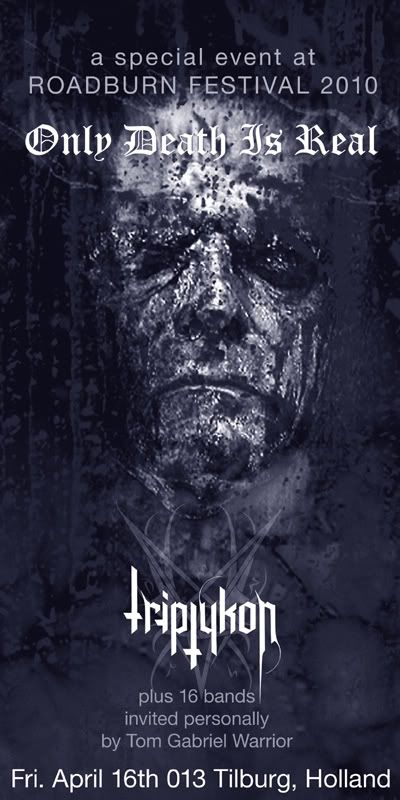 I've never had a passport. I've never been out of the States. Not even to Mexico or Canada. I'd love to go overseas at some point in my life. I have a feeling that I'd enjoy spending January in Norway. Yet I've never made the first step into making overseas travel a reality: getting a passport. Well now I do feel some motivation due to the following press release from the Roadburn Festival:
Tom Gabriel Warrior Named As Curator For Roadburn 2010

Roadburn is very pleased to announce that Tom Gabriel Warrior, founder of the illustrious Hellhammer and Celtic Frost, has agreed to act as the curator for our festival on Friday, April 16th 2010, and host a special event at Roadburn, called

Only Death Is Real

.

Tom's duties as curator include personally selecting the bands that will play on

Only Death Is Real

, as well as to perform the first major headlining set with his latest incarnation, Triptykon. Tom will be Roadburn's third curator, following up on David Tibet in 2008 and Neurosis earlier this year, and we would call his election a perfectly natural progression.

We are overjoyed to have secured Tom's involvement in Roadburn this year, as he stands as a truly groundbreaking artist, with his previous bands having been extremely divisive, as is often the case with truly unique and original works of art. Ultimately his canon of work would prove not only legendary but hugely inspirational for an entire generation of musicians in the metal, doom and dark psychedelic scenes.

Tom has always enjoyed pushing the envelope musically and challenging boundaries, and it was entirely that mindset that made him a perfect fit to act as our curator. It has been a constant goal of ours to keep Roadburn a festival that not only celebrates the established but charts new territory, and we could think of no better spirit guide than Tom Gabriel Warrior. We are looking forward to the new ideas that he will bring to our festival, as we feel that we are truly kindred spirits.

Tom Gabriel Warrior: "It is a surprise and an honor to be asked by Roadburn to act as a curator, and I am accepting this extraordinary opportunity with much gratitude and due humility. In my eyes, Roadburn is one of the most courageous and artistic festivals in existence, and its history is, in essence, a list of concerts by groups I deeply admire. It is quite a challenge to follow such footsteps, both as a curator and as a musician. I will try my very best to ensure that the groups I intend to propose to the organizers of Roadburn will be as ravishingly dark, unique, and exciting to the festival's visitors as they are to me."

Holland's very own Roadburn Festival has become Europe's leading underground festival for psychedelic, avant-garde, doom or any other variation of leftfield sonic pleasure at pushing the boundaries of music.

In addition to the music, Roadburn has earned a reputation as having a unique camaraderie between the festivalgoers, bands, organizers and staff, and ranks as one of the best and most laid-back festivals to be experienced.

Roadburn 2010, including Tom Gabriel Warrior's

Only Death Is Real

, will run for three days from Thursday, April 15 to Saturday, April 17 at the 013 venue and Midi Theatre in Tilburg, Holland. There will be an additional afterburner event on Sunday, April 18, 2010.
I suspect that when I do finally set foot on foreign soil it will be to attend one of the many excellent music festivals held throughout Europe. Now I'm not saying that I'm going to make it out to Roadburn 2010. Who knows how much airfare and accomodations will cost. But with the current status of the global economy travel is super cheap. I'd hate it if I could afford the travel costs but couldn't go because I don't have a passport. So yeah...time to fill out the application and go get my picture taken!